Posted June 02, 2022 in Brow Lift, Eyelid Surgery, Facelift
4 Minute Read: 
Facelift surgery is one of the most popular and transformative cosmetic procedures available for men and women. In fact, in 2020, facelift surgery was the third most performed cosmetic surgical procedure. 
And while you can achieve a stunning facial appearance from a facelift, the unfortunate reality is that facelift surgery does not address the entire face. Instead, a facelift alone only corrects the lower two-thirds of the face, from the cheeks to the neck.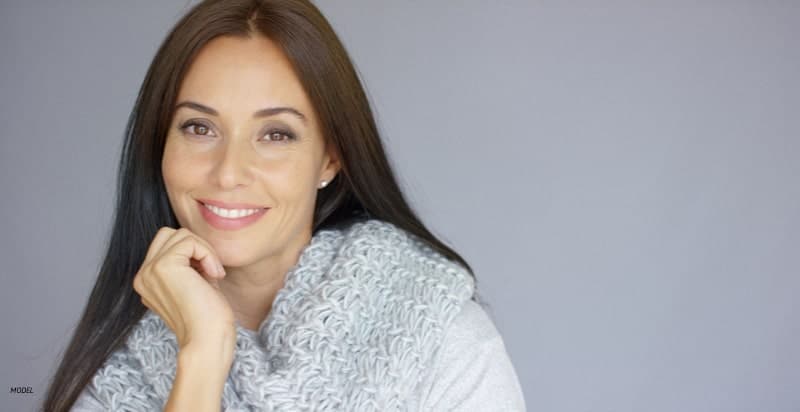 This can be problematic, especially if you suffer from issues, such as loose and sagging skin or wrinkles and fine lines on both the lower and upper portions of your face. 
Luckily, by combining other procedures like a brow lift and eyelid surgery to your facelift, you can have a complete facial rejuvenation that will make you look and feel years younger.
What Is a Brow Lift?
Brow lift surgery (also known as a forehead lift) addresses wrinkles and fine lines on the forehead and between the eyes and loose and sagging skin around the eyebrows. 
This procedure can help give you a more youthful and calm appearance, as many of the issues corrected by a brow lift tend to make people look angry and frustrated.
Brow lift surgery is generally performed under intravenous sedation or general anesthesia, so you will not feel any pain or discomfort during the procedure. 
After the anesthesia is administered, Dr. Boll will make incisions along the hairline. The resulting scars are often hidden by hair. Dr. Boll will then reposition and tighten the underlying tissue in the forehead and eyebrows. If sagging skin is present in the eyebrows, then excess fat and skin will be carefully removed.
After your brow lift, you can expect to have a lifted, smoother, and more contoured appearance to your upper face.

What Is Eyelid Surgery?
As we age, the elasticity in our skin begins to weaken, causing our skin to sag. This sagging skin in the eyelids can cause peripheral vision impairment and make you look tired and older than you feel. 
Eyelid surgery, also known as blepharoplasty, is generally performed under local anesthesia for the upper eyelids but the lower eyelids must be done in the surgery center.  It corrects any drooping in your upper eyelid or puffiness in your lower eyelid and around your eyes. 
For upper eyelid surgery, an incision is made in the natural crease of your upper eyelid. Fat deposits are then removed or redistributed, and the muscles are tightened. If you suffer from sagging and drooping skin, then this will be removed. 
For lower eyelid surgery, an incision is made just below your eyelashes to remove and reposition any excess fat and skin that you may have in the area. You can choose to have either upper eyelid surgery, lower eyelid surgery, or both.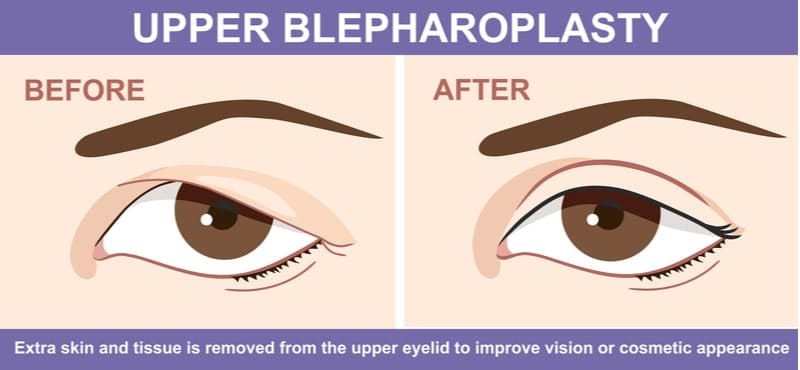 Why Would I Want to Combine Procedures?
A facelift tightens underlying muscles, removes excess skin, and tightens the remaining skin to give you a more contoured and defined facial aesthetic. 
However, by only treating the lower portion of your face and not addressing the upper portion (around your eyes and on your forehead), you are risking an imbalanced appearance. It is the same as only mowing half of your lawn. Instead, you may desire a complete transformation to your entire face. 
This is often only achieved by combining a brow lift, eyelid surgery, or both to your facelift. 
In addition to overall rejuvenation to your face, by combining procedures, you will lower the overall cost and recovery time of your surgeries (opposed to having them performed separately). This is because you are having the surgeries at the same time, so there's no need to pay double for some of the fees, including surgeon's fee, facility fee, and anesthesia. And you are recovering from these procedures at the same time instead of at separate times. 
Interested in Learning More About Facial Procedures in Tempe, AZ?
If you have any questions about combining a brow lift or eyelid surgery to your facelift, then book a consultation today. You can schedule an appointment with Dr. Jennifer Boll by calling 480-800-8295 or filling out our online contact form.
You can see Dr. Boll's amazing transformations by visiting our plastic surgery before and after gallery.