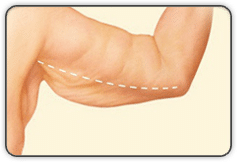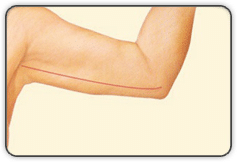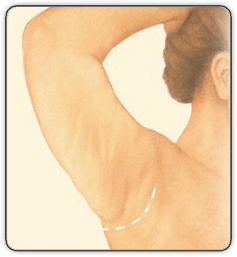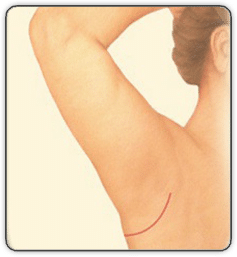 A brachioplasty is also known as an upper arm lift. In some people, the upper arm area can develop excess fat or loose hanging skin. This can be very uncomfortable, make finding clothes that fit this area difficult, and have an undesirable cosmetic appearance. The surgery to improve this area involves liposuction of the upper arm and then excision of the excess skin.This surgery takes about 2 hours and may be combined with other body contouring procedures. The surgery uses either a scar that extends down the inside of the upper arm or one that is hidden in the underarm area. More skin can be removed with the inner arm incision but either procedure can provide good results. She can demonstrate for you the results that you can expect with each method of performing the surgery.
The difference between the two ways of performing this surgery will be outlined for you by Dr. Boll when you come for your consultation.
The surgical recovery is about 4 weeks and a compression vest is worn during this time. Everyone recovers at a different rate and people with more sedentary jobs often return to work before the 4 week point. The results of surgery are immediately apparent but the final results are not seen for at least 6 months due to surgical swelling.
When you come in for your consultation, Dr. Boll will listen to your desires and expectations and formulate a surgical plan that is customized for you. You will have ample time to ask questions about the surgery and recovery.
---