ThermiVa® is a nonsurgical treatment that is able to restore the appearance of the vulva and tighten the interior of the vagina. There's no downtime and you can get back to your normal activities the same day of the treatment.
What does ThermiVa® do?
ThermiVa® offers a number of benefits to women in terms of aesthetics, health, confidence, and sexual satisfaction. The treatment can:
Improve external features of the vagina
Relieve discomfort of enlarged labia
Tighten the vagina and improve sensation during intercourse
Relieve urine leakage issues due to incontinence
Improve cases of atrophic vaginitis and orgasmic dysfunction
And improve moisture balance
How does ThermiVa® work?
Using targeted radiofrequency energy, ThermiVa® gently heats up the skin and tissue of the target area. The collagen in the tissue reacts by shrinking, causing a natural tightening. At the same time, the heat causes the body to produce new collagen, increasing the effects of the procedure.
Areas that can be treated with ThermiVa®:
The ThermiVa® system is specifically designed to be used on external and internal anatomical features of the vagina.
Candidates for ThermiVa®
ThermiVa® is for any woman who wants to improve her health and/or sexual confidence. Most women are candidates for the treatment. ThermiVa® can help women in a number of ways, and each patient's reasons are personal.
Women who have had children and women who are experiencing menopausal issues are common patients for vaginal rejuvenation procedures like ThermiVa®. However, anything from weight fluctuation to medical conditions can alter the appearance of skin and tissue around the vagina.
The Procedure
ThermiVa® is a nonsurgical, noninvasive procedure that can be performed in less than an hour. There is no anesthesia required.
Recovery & Results
ThermiVa® uses the proven technology of the ThermiRF system, offering safe and comfortable temperature-regulated heat application. There is a very small chance for any noticeable side effects. Patients are able to continue with their days and all normal activities, including intercourse.
Many patients can see results from ThermiVa® immediately after their first treatment or within a few days. Results can change as the body adjusts to the production of new collagen in the area.
For the best results, it's recommended that patients receive 3 treatments, spaced out by a period of about a month.
ThermiVa® Reviews
"After the age of 45 and having given birth to three children, I was finding that I began to have difficulty in maintaining vaginal lubrication. I also started noticing that embarrassing urine trickling when I laughed or sneezed. I came in for a consultation and same day ThermiVa® procedure last year. I was able to see a noticeable difference after just one treatment! I wished I would have found this procedure sooner! I highly recommend this procedure to all women who have struggled with similar symptoms"
– Claire M.
"I came in for my second ThermiVa® treatment last month and WOW! My husband has noticed a difference. I actually didn't tell him I was having this done, I was hoping he'd noticed on his own. He definitely did!"
– Mary F.
"I have had 2 ThermiVa® treatments recently and have noticed results. After the first treatment, I noticed a difference with that oh so embarrassing urine leakage when coughing or sneezing. After my most recent treatment, I noticed an improvement in my natural vaginal lubrication and with achieving orgasm. The procedure was easy, painless and very effective! The staff made what can be an awkward procedure very comfortable. Highly recommend ThermiVa® to all women."
–Ashley W.
---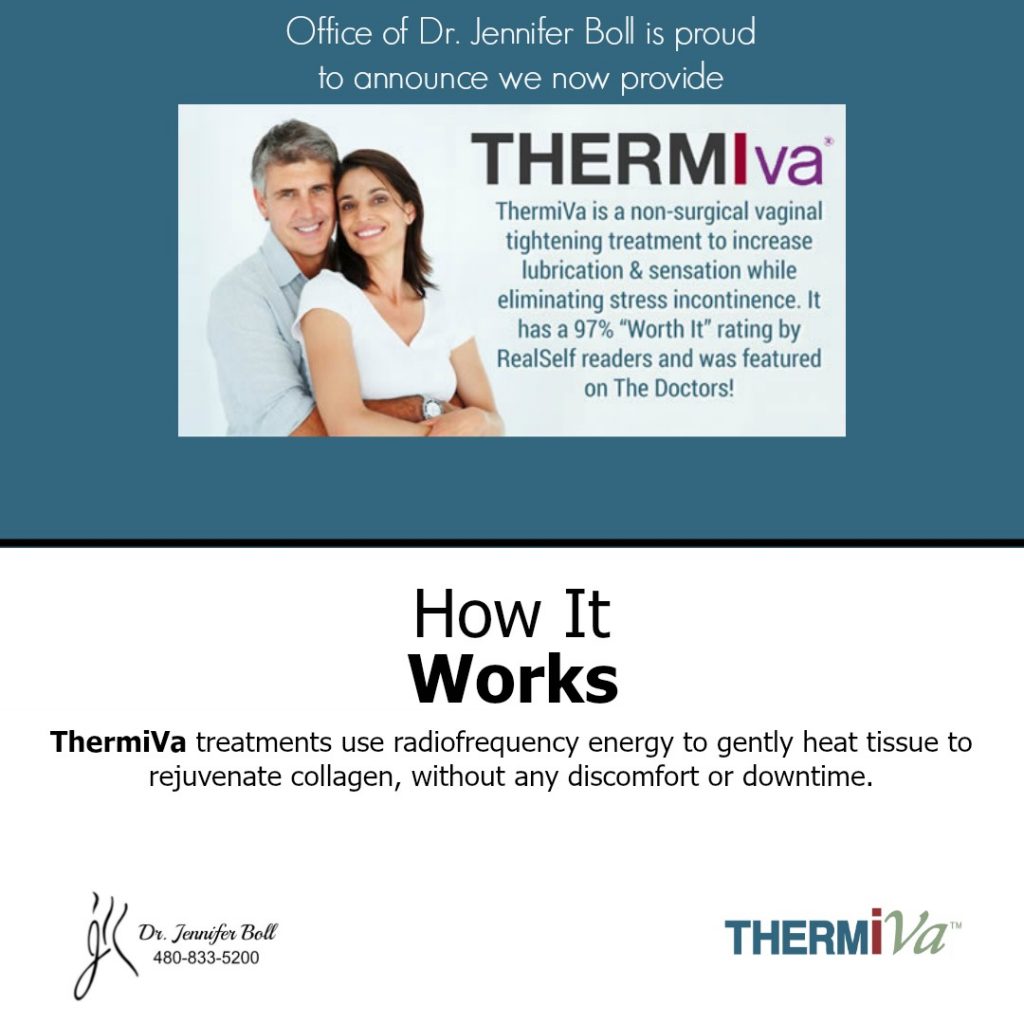 ---