ThermiSmooth® in Phoenix, AZ

ThermiSmooth safely and comfortably tightens aging, sagging, or wrinkled skin!
ThermiSmooth is a non-invasive procedure that can help you achieve a more youthful look. ThermiSmooth works on many different areas of the face.
What is ThermiSmooth?
ThermiSmooth is one of the techniques from the new ThermiRF system.
Using targeted radiofrequency energy, ThermiSmooth heats up the skin of the target area. The ThermiRF system is unique in its ability to constantly sense and adjust to the temperature of your skin.The result is a very comfortable treatment session that, for most people, feels similar to a warm massage.
When your skin's collagen reaches around 104ºF, it reacts by shrinking. This shrinking effect is what causes the skin to naturally tighten, smoothing skin and reducing the appearance of wrinkles. At the same time, your skin's natural inflammatory response to the heat is to produce new collagen, furthering the beneficial effects of the procedure.
As time goes on and your skin's collagen fibers heal and strengthen, the results become more and more apparent.
Areas that can be treated with ThermiSmooth:
The ThermiRF system works well on many different areas around the body. The ThermiSmooth procedure is great at dealing with wrinkles and texture issues on the face. ThermiSmooth is most often performed on the following areas:
Forehead
Jawline
Neck
Chin
Lips
Lower Eyelids
Candidates for ThermiSmooth
Most anyone who wants to safely deal with wrinkles and minor texture issues of the face can use ThermiSmooth.
The Procedure
The ThermiSmooth procedure is usually very quick. Most sessions last about 30 minutes. Depending on the areas treated and a number of other factors, though, treatment can last for over an hour.
Recovery & Results
Minor swelling and redness may occur. In almost all cases, patients who undergo the ThermiSmooth procedure need no recovery time, you can simply get back to your day!
Many patients can see results from ThermiSmooth after the first treatment, however in most cases multiple treatments are necessary to achieve optimal results. The gradual production and strengthening of collagen in the skin means that results become more apparent as time goes on. Full results become apparent after 3-6 months.
Most people require 3 treatment sessions to achieve optimal results. The time between each treatment session is usually around 2-4 weeks.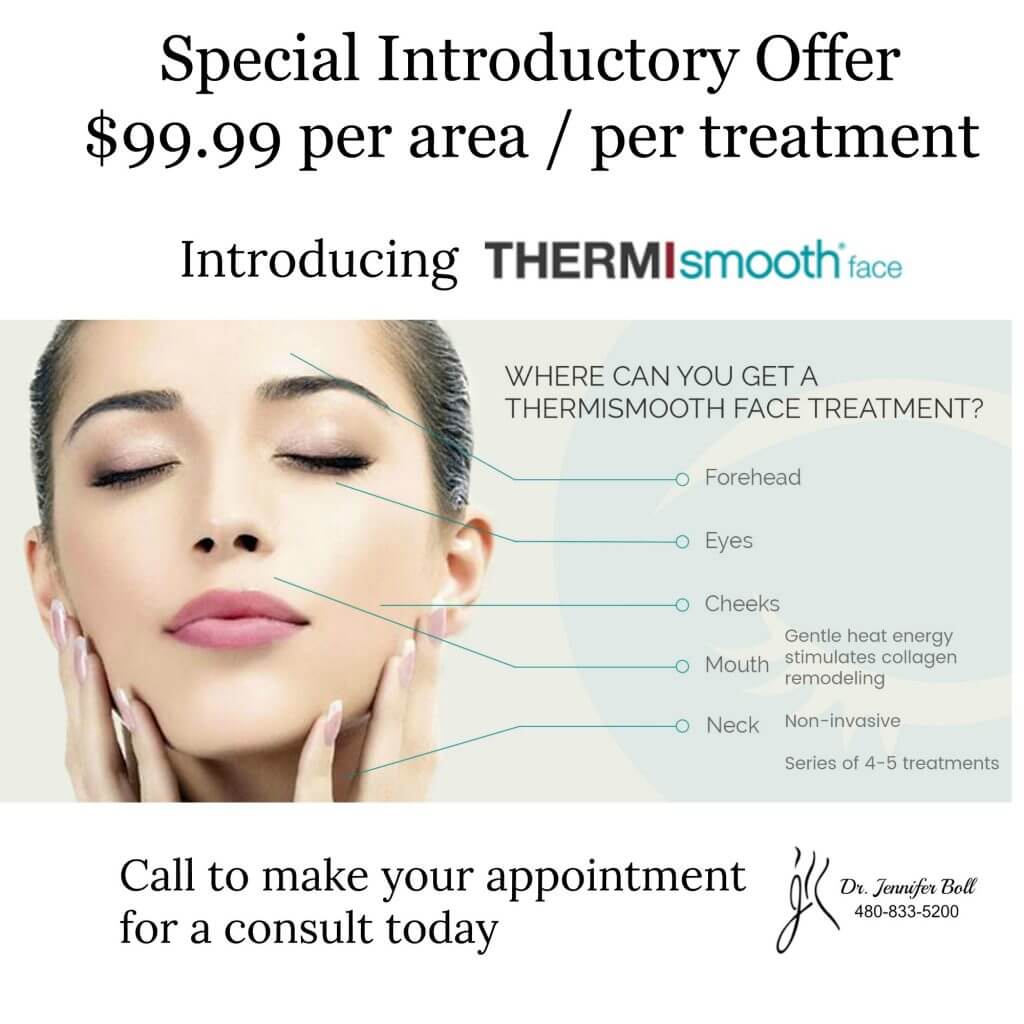 ---