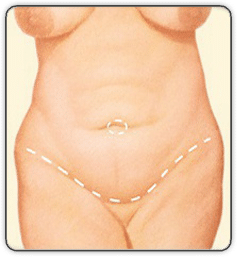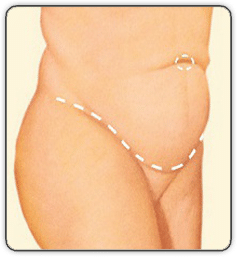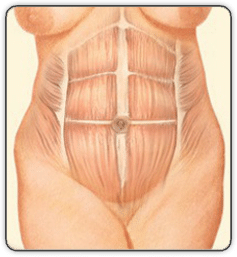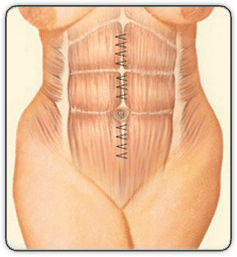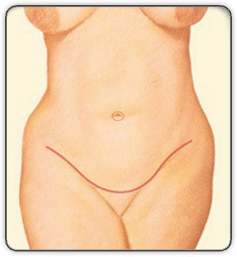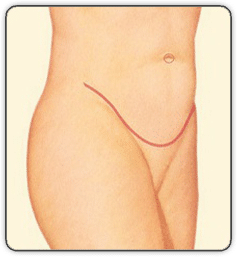 An abdominoplasty is also referred to as a tummy tuck.
This procedure is used to remove excess abdominal skin and tighten a protruding stomach.
The abdomen may become stretched out from either pregnancy or weight fluctuations. This looseness is not just the external skin but is also related to the underlying muscles. When the muscles are stretched their position changes and they are often no longer in the midline. They have shifted to the side. This is called a rectus diastasis. In this position, you no longer have proper trunk support and exercise and activities become more difficult. This can lead to back pain. There is no way to return the muscles to their natural position without surgery.
With an abdominoplasty several things are done to improve the abdominal shape and contour:
The excess lower abdominal skin and fat are removed. This encompasses the skin from above the belly button to the pubic area.
The skin above the belly button is tightened and pulled down over the area where the skin has been removed.
The rectus muscle is brought back to the midline and tightened.
Excess fat is liposuctioned from the flank area.
The belly button is repositioned and excess skin is removed from around it.
This surgery takes about 3 hours and is often combined with other procedures such as liposuction to additional sites, breast surgery, or other body contouring surgery depending on individual preference. There is a scar that extends across the lower abdomen and a scar around the belly button. You will wear a compression girdle for about 6 weeks after surgery and compression hose for about 1 week after surgery. Recovery from this surgery is about 6 weeks but often people return to work before this time depending on their job and its demands.
During your consultation you will meet with Dr. Boll and express your desires and expectations. She will explain to you what can be performed surgically and the results that you can expect. She will also outline the recovery period and healing from this surgery. She will give you ample time to ask questions. Each surgery is customized to the individual so the best way to find out what you can expect is to meet with Dr. Boll.