Posted August 12, 2019 in Breast Augmentation
Breast augmentation helps women gain confidence in their bodies by enhancing the size and shape of their breasts. While the procedure is very manageable, it is still invasive surgery, and it requires a period of downtime and recovery.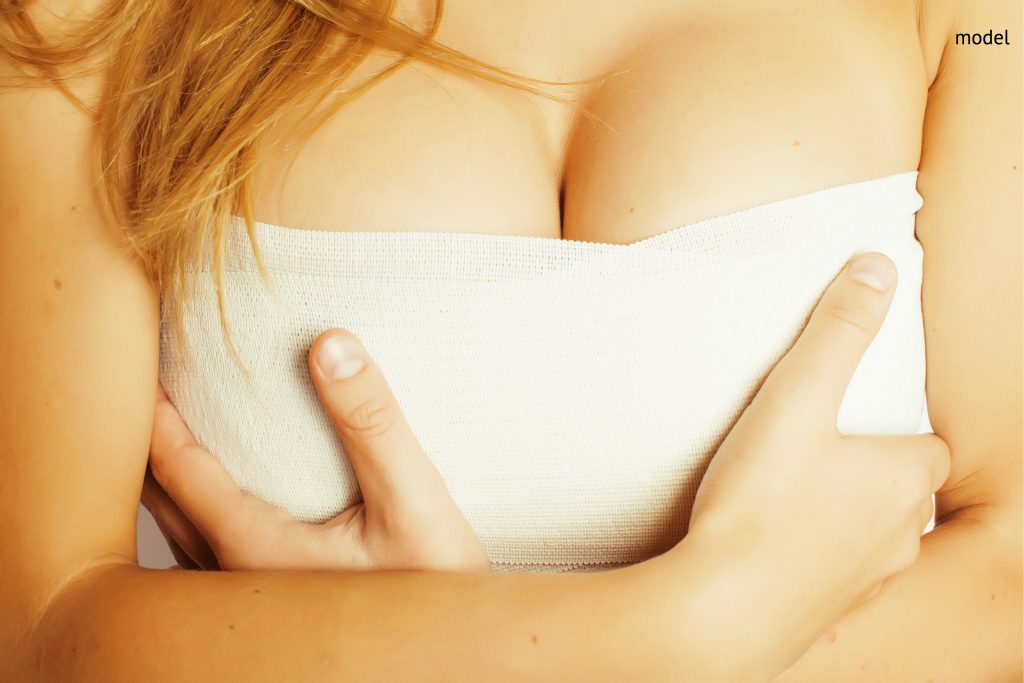 Leaving the Surgery Center
Breast augmentation is an outpatient procedure; however, it requires general anesthesia regardless of your implant or incision choices. You will feel tired and groggy for the rest of the evening and sometimes even into the following day. It is essential that you have someone present to drive you home and stay with you for the first 24 hours. This person will assist with routine chores and activities, including:
Meal preparation
Getting dressed
Moving from location to location
Cleaning and other housework
Childcare
Your Compression Garments
Breast augmentation involves incisions made through the skin, tissue, and sometimes the pectoral muscle. This invasive technique results in bruising, swelling, and tenderness that may be present for several weeks.
To help with this, you will wear a compression garment or surgical bra around the clock. This garment serves a dual purpose. First, the pressure of the wrapping will help to promote circulation, which will reduce swelling and speed up your recovery. And secondly, it will protect the incisions and ensure that your implants heal in the correct position. If you choose not to wear your surgical bra, you run the risk of your implants moving or sliding out of the breast pocket.
Once your implants have settled, and your incisions have healed, you can switch to a sports bra or other comfortable support bra.
Returning to Work
Most post-operative discomfort lessens or disappears within three to five days, and the majority of women feel pain-free after one week. It is at this time that patients can return to work if they have a desk job. Women who have more demanding professions, such as those that require heavy lifting or physical activity will require additional time off.
Resuming Exercise
Even though most women feel as though they have healed after one week, there is additional healing that is occurring internally. Because of this, patients need to refrain from strenuous physical activity for at least four to six weeks. This includes lifting anything over ten pounds and stretching your arms above your shoulders. While they may not seem like over-exertions, these activities can be detrimental to your incisions.
Planning Your Wardrobe
You will be sore in the days and weeks following your surgery. A proper wardrobe can help with this discomfort. Loose-fitting tops or dresses that button in the front are the ideal choice for your recovery period. You want to avoid anything tight or anything that pulls over your head.
Even after you are cleared to remove your compression garment, you need to wait before you opt for an underwire or a push-up bra. These styles are meant to augment or manipulate the shape of the breasts, and this will disrupt the healing process. Also, the underwires may irritate or even open the incisions. Until you are fully healed, choose bras made with seamless designs, adjustable straps, and breathable fabrics.
One of the reasons that women choose breast augmentation is the ability to wear a wider variety of clothing. While it sounds appealing to run out and purchase a brand-new collection of bras immediately, it is better to wait and build your wardrobe slowly. The swelling that occurs after breast augmentation may linger for weeks or even months, and your breast size will fluctuate.
For more information about the breast augmentation recovery, or to set up a consultation with Dr. Boll, contact our office by calling (480) 800-8295 or by filling out our online contact form.