Posted February 21, 2020 in Tummy Tuck
3 Min Read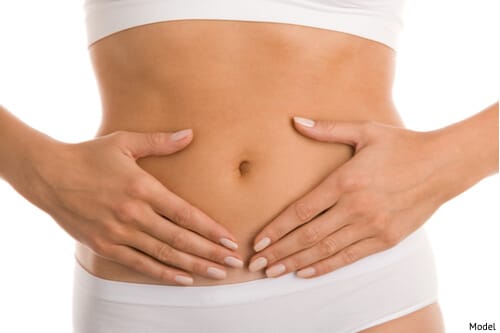 A tummy tuck is a popular procedure that usually leaves patients pleased with their new belly. However, the stomach can be a tricky area to maintain after cosmetic surgery.
It is common to gain stubborn fat around the abdomen as you age, and for female patients, pregnancy could have a drastic effect.
What is a Tummy Tuck?
A tummy tuck, or abdominoplasty, is a body contouring procedure that enhances the appearance and firmness of the abdomen.
Tummy tuck surgery consists of removing excess fat and skin from the abdomen. In cases where a patient is experiencing the separation of the abdominal muscles (diastasis recti), the muscles will also be tightened.
A tummy tuck results in a flatter and smoother abdomen with more toned and flattering contours.
What Can Damage My Tummy Tuck Results?
Weight Fluctuations
Weight fluctuation is the most common reason for the changes in your tummy tuck results.
Many patients struggle with stubborn fat accumulation around their stomachs. This is a common reason for getting a tummy tuck in the first place.
The results of your tummy tuck are long lasting as long as you stay at a stable weight. Consistent diet and exercise are recommended to help maintain your tummy tuck results.
Pregnancy
Pregnancy causes excessive stretching of the lower abdomen, which can cause stretch marks, loose skin, and the formation of an abdominal pooch.
This event compels many women to undergo a tummy tuck, which repairs the above concerns. Unfortunately, an additional pregnancy—even after a tummy tuck—can recreate the same concerns.
A tummy tuck restores firmness to the abdomen, but it does not prevent additional laxity.
Sun Exposure
Sun exposure stresses and thins the skin. Excessive sun exposure during the healing process can cause the areas of the incisions to darken and scar more heavily or can weaken the strength of the skin.
It is often advised to keep the site of the incision away from sun exposure for up to a year following the procedure.
What Can I Do to Maintain My Tummy Tuck?
While the items listed above can affect your tummy tuck results, they do not mean that maintaining your results is impossible.
Diet and exercise are the keys to maintaining tummy tuck results. In addition, some patients seek professional advice for nutrition and healthy lifestyle tips so that they can make the most out of their efforts.
It can also be helpful to reduce stress wherever possible and understand that weight gain can be caused by more than just diet.
Try to limit sun exposure where possible and use sunscreen. This will minimize your scar and protect the collagen in your abdominal skin.
For female patients, it may be advised to postpone your tummy tuck until you are finished having children.
Want to Learn More?
If you would like to learn more about your tummy tuck options, please feel free to call Dr. Boll at 480-800-8295 or fill out this contact form.