Posted October 31, 2018 in Fat Transfer Procedures
Cosmetic improvements to your body can help you feel more confident and more beautiful. For areas that do not have the volume you desire, whether they are naturally small or have experienced a loss of volume due to aging, there are cosmetic procedures that can provide enhancement. Breast size and shape can be augmented with implants, but this requires an invasive surgical procedure. The face loses volume due to aging, and injectable fillers can restore it to targeted areas. However, these require maintenance treatments to keep your results looking as they should.
Instead of undergoing regular maintenance treatments or invasive surgical procedures, consider asking Dr. Boll about fat transfer procedures that can provide you with changes to your appearance in ways that you may not have realized.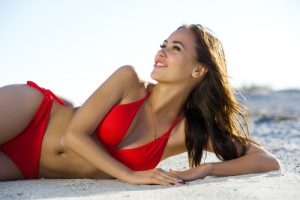 What Is Fat Transfer?
Fat transfer procedures involve the use of fat that is taken from one area of your body and transferred to another to provide added volume. During your consultation appointment, you and Dr. Boll will discuss the specific areas you would like the fat harvested from. Common donor sites include the abdomen, thighs, or arms.
The procedure begins with liposuction. Dr. Boll will make small incisions at the donor site and use a microcannula to extract the fat. This fat is then purified and prepared for reintroduction into your body.
Dr. Boll will inject the prepared fat into the predetermined treatment sites to add volume to your face, breasts, or buttocks. But why consider it over other options?
Less Invasive Than Other Procedures
Traditional breast augmentation requires a surgical procedure to provide the enhancement you desire. This involves anesthesia, incisions, and a recovery process that can last a month or two. By choosing fat transfer for breast augmentation, you can enhance the size of your breasts with a much less invasive procedure.
Though you will have to be put under anesthesia for the liposuction portion of the procedure, this is a much less invasive option than what is required for a traditional breast augmentation. Additionally, after fat transfer breast augmentation, your recovery is much less extensive, though you will still have to give your body time to recover.
Longer-Lasting Results
To restore lost facial volume, many turn to injectable fillers to add volume to areas of the face like the cheeks or lips. However, these injectables often require multiple treatments in order to maintain your results.
With a fat transfer treatment, your results will be permanent. One thing to note, though, is that it may take longer to see your final results. Fat that has been transferred does not always survive the procedure; sometimes the fat will reabsorb into the body. In cases where you do not achieve the desired volume, additional treatments may be necessary. However, once your results are where you'd prefer, you will not need additional treatments.
For more information about fat transfer procedures, please contact our office to schedule your consultation with Dr. Boll. Our office can be reached at 480-800-8295.